HAT-P-27 b / WASP-40 b
AIMS
HAT-P-27 b (discovered by Béky et al. 2011), also known as WASP-40 b (individually discovered by Anderson et al. (2011)). Looking at the RV-meassurements of both groups, one can see an almost perfect fit of the Béky et al. data, but strong deviations in the Anderson et al. data. Interestingly both groups come to equal results leading to a 0.62 jupiter mass planet with a radius of 1.05 jupiter radii. While Anderson et al. have adopted an eccentricity of 0, Béky et al. found a nonzero eccentricity of e=0.078+/-0.047 as a best fit, thus matching our requirements of interesting TTV-targets to be observed.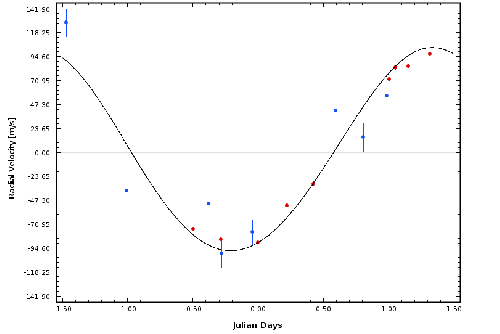 Figure caption: The combined RV data from Béky et al. (red) and Anderson et al. (green).

RESULTS
The number of observed transits for HAT-P-27b lead to a redetermination of the orbital period by about 0.3s. Not TTV analysis possible yet.
STATUS
The campaign started in 2011 and is continuing in 2013. If you can contribute a light curve, please let me know.
LIGHT CURVES
(update: 2013-03-18)
Reliable
| | | | | |
| --- | --- | --- | --- | --- |
| No. | Date | Epoch | Instrument | Comment |
| 1 | 2011 Apr 05 | 97 | Lulin 0.4m | |
| 2 | 2011 Apr 08 | 98 | Lulin 0.4m | |
| 3 | 2011 May 05 | 107 | Trebur 1.2m | |
| 4 | 2012 Apr 01 | 216 | Tenagra II 0.8m | |
| 5 | 2012 Apr 25 | 224 | Xinglong 0.6m | |
Epochs given according to Anderson et al. 2011
Other
| | | | |
| --- | --- | --- | --- |
| No. | Date | Telescope | Comment |
| 1 | 2011 May 21 | Tenagra II | target star saturated |
| 2 | 2012 Mar 07 | Stara Lesna | bad conditions for observations |
| 3 | 2012 Mar 29 | Tenagra II 1.5m | partly saturated |
| 4 | 2012 Apr 01 | Tenagra II 1.5m | partly saturated |
| 5 | 2012 Apr 04 | Tenagra II 1.5m | partly saturated |
| 6 | 2012 May 16 | Trebur 1.2m | only egress phase observed |
| 7 | 2013 Jun 06 | Calar Alto 1.23m | clouds occured, only normal light phase observed |